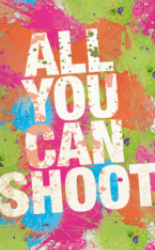 All You Can Shoot is here for everyone who wants to play hard and not worry about anything more than necessary. You don't have to count how much you've already shot, or check if you've got enough in your wallet for a beer when you're done. Here, you know in advance how long you're gonna stay and how much it's gonna cost you. And that's fair, isn't it?
EQUIPMENT
The package includes all the basic equipment - mask with thermal glass, gloves, overall and a Tippmann 98 Rental marker with gravity magazine. For women and children we will also provide a protective vest.
PAINTBALLS
The package includes unlimited ammunition. You can fit 200 bullets in the gravity marker magazine, and you go into each game with a full magazine.
Unless you're literally shooting into the air, this should do just fine, unfortunately there's no way to get bonus paintballs in your pocket, backpack or anywhere else...
---
PRICE
The package costs 60 € per person. You can play for 3 hours. Need more time? Feel free! An extra hour will cost you 20 €/person, just please let us know in advance during the booking process...
Package can be booked on all our fields, booking is required in advance.
---
If you're interested in the All You Can Shoot with MAGFED equipment option (which we think you should be!), you can find information here. To find out more about All You Can Shoot as a teambuilding, click here.