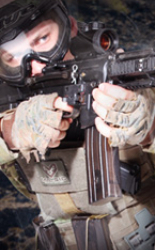 Live two days full of adrenaline. First day in the reball hall under the lead of professional paintball player who you take the skills and tactics from.The next day you go and enjoy the real battle.
 Course of the event
We organize PPA weekends in our adrenaline complex in Mýto, there is Reball hall and indoor and outdoor field.
First day:
After arrival you accommodate at Resort Brdy questhouse which is around 10 minutes on foot from the field.
After that you come to the field, there is a full paintball briefing and we will schedule the day for you.
3 hour paintball game follows in the reball hall where you should exercise and improve the skills in a tactical strategy.
A dinner in the restaurant Resort Brdy follows. Every participant can choose one meal plus one drink.
You can continue in the Club Sladovna which is right by the field or you can enjoy outdoor grill in the area of the restaurant. There is a possibility to visit Pilsen (10 minutes by car) or visit Prague (50km by D5 highway)
Day 2:
When you get up, there is a breakfast for you.
We wait for you on the field where you should make good use of experience you have done in the reball hall.
After paintball there is a lunch for you in the Restaurant Club Sladovna.