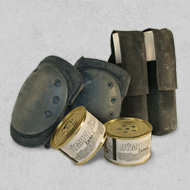 Tactical gear is not essential, although can help to the victory. The utility can easier control demanding situation.
Paintball harness/ Battle pack
Battle pack can carry enough ammo, which you and your teammate may find useful.
Pod Pouch can be placed onto a belt or it could be a part of a vest.
There exists a belt called 'Battle Pack' which is designed right for paintball. The capacity is up to 9 pods.
Pods
Pod is for transporting the ammo or measuring the ammo. It is made from hardened plastic which is closable by a cover. The best usage has the brand as FAT BOY or DYE.
The sizes of the pods could be 50, 100, 150, 160 ammo.
It is possible to wear the Pods in the Pod Pouch or in the tactical vest. Another option is a Battle Pack where you can place 3 to 9 pods.
Pods cannot be used in All You Can Shoot Package or One Night in Pilsen.
Protective gear
Shin Pads' function is to protect the elbows and knees. It fasts by a zip fastening. The size is universal.
If you like crawling and jumping behind the obstacles, you should not forget to take shin pads with you. There is no time to kiss the knees for you in the middle of the game.
Tactical shield
Tactical shield's function is to protect a player. Hit into the shield does not eliminate a player of the game.
The shield is transparent it could help you safely look into the window or rooms. It is a priceless tool in the building during the fights.
The player that carries the shield has to remember that those bearer are most of the time eliminated to the legs. It is necessary to kneel down to reach full protection.
Tactical vest
With a tactical vest you can carry the pods with ammo, pistols and smoke grenades even pressure bottles.
Tactical vests are easy to adapt to different figures. Many other tools can be filled in.
Belt
A universal belt is for fastening overall in a waist part. It is possible to strap a Pod Pouch or a holster on a belt.