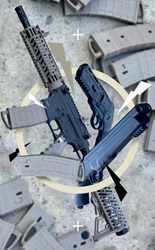 Magazine fed markers, unlimited ammo, revolver and shotgun? This equipment is the right fit for a great experience.
What is it about?
Real looking equipment and thus real experience. This is not the time to shoot as much ammo as you can, this is the time about tactic thinking. Choose Magfed Package and if Magfed marker is not enough we are able to lend shotgun or revolver to the game.
Where I can play?
Once in a while there is Magfed Event - an event for players with own Magfed equipment or even for the ones without it. (reservation needed)  
Would you like to play Magfed with a group of friends but not on Big Games? We have created Magfed All you can shoot for you. . 
---
Pricelist
All you can shoot Magfed
(You can book the package individually, it is not possible to use own ammo nor book the package without the ammo)
Tippmann TMC 68 M4 Carbine, magazine, mask, overall, gloves and unlimited ammunition - 50 € / 3 hours
Magfed Events
(price only for Magfed Games, paintballs are set according to our pricelist or BYO; price for players with their own equipment to be found on the BigGames) page
Tippmann TMC 68 M4 Carbine, magazine fed, mask, overall, gloves - 30 € / day (without paintballs)
---
 Attention! It is necessary to make a reservation in advance! It is either for Big Games or for individuall magfed games. Capacity is limited..